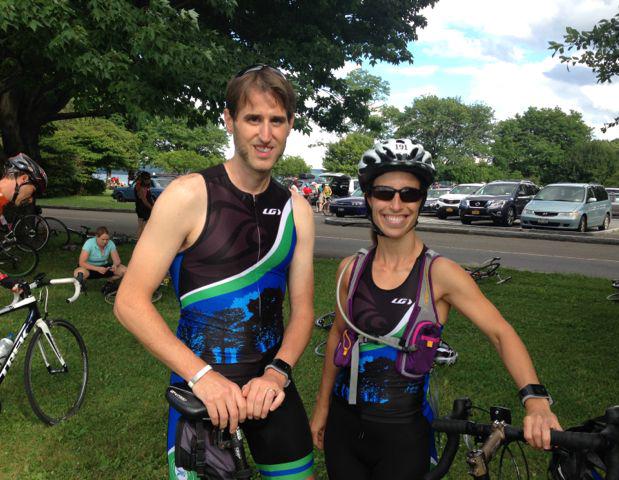 Time to Read: ~3 min
Another training week is in the books! I cannot believe my first 50K is now less than 5 weeks away. I logged 37.72 running miles this week, grabbed a couple of brick workouts and did some lifting. I have yet to get into the lake to swim for the upcoming tri that I'm not really preparing. I'm feeling VERY chicken.
A high point of this week was the Cayuga Lake Triathlon practice night. Every summer, the Ithaca Triathlon Club offers this opportunity to ride and run the course on a Wednesday night in July. Simulating race conditions, groups head out in waves and while the road isn't closed and the turn around isn't staffed, it provides the chance to really push hard riding with others on the course. Every year I am less afraid and more excited! This year I was outfitted in my Finger Lakes Running and Triathlon tri kit. It was so comfortable to ride and run in, and fun to see so many of my teammates. Shortly into the ride, I rode straight over glass and waited to hear a hissing in my tire. I was lucky! Both my tires were fine. Later in the course, there was a piece of metal in the road. Yup, I rode right over that. Having recently passed a man changing his tire, I figured it was now my turn. Again I was spared. I went on to enjoy this ride. Wearing my Nathan hydration pack (or a small baby as my friend Brenda noted at the start), I was able to drink whenever I wanted to, and while I had hopes of crossing over the road at the turnaround without hopping off my bike, I chickened out and carefully walked across (I still don't trust my mirror). On the way back, this was my first time not visioning Scott getting hit by a car. Every year, I spend the last 3 miles freaking out that a car will hit him and he will be splatted on the road. I know this is ridiculous, but this doesn't seem to stop the fear! The worry for me is different. When I was 12, a good friend flipped over her handlebars while riding downhill on her bike, ending up in the emergency room. I don't remember anything from that day except a lot of blood! So, whenever I hit the downhill, I worry that my brakes will fail while I am using them constantly to avoid going too fast. This year was no exception. When I got to the base of the hill, I walked my bike across the road, and then took the long way back (while they were giving instructions, I was chatting thinking I knew the course well enough). Even with all these things, I maintained a decent pace for me (16.2 mph).
The run was GREAT! I don't love this course, but I always feel so happy heading out on the run. It is a big mental game to head out on grass and run through the park on a seemingly random route through the grass. My mantra was "an object in motion tends to stay in motion" as I kept putting one foot in front of the other while working on keeping a quick cadence. I heard three men chatting behind me, and as their voices got closer, I knew they'd be speeding by before too long. My goal; hold them off as long as possible. They breezed by at about a mile shouting out "good job" and "it took us almost the full mile to catch you." They confirmed with each other that they were averaging 8:44. I looked at my watch, 9:03 average. I know from running this for training that I can gain speed on the return trip, and set a goal to hit 8:35  for the course. I nearly hit that, coming in with an 8:37 per mile pace.
The other highlight of the week was the Forest Frolic (read my race report). Jenny and I chose to use that race to get our fall back long run in. It was challenging but rewarding and a lovely change from the trails we've spent so many of our weekends on.
Goals for the coming weeks include starting to think about race day strategy, realistic pace goals and to get into the lake at least once before the Cayuga Lake Tri!!