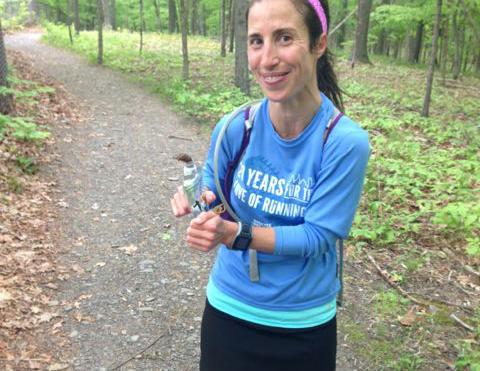 Time to Read: ~4 min
Weird training week! I was able to flip/flop things around because of Elizabeth's dance recital and the fact that we were renting our house out for Cornell graduation but everything felt a little chaotic. I am starting to get stressed about focusing so much on trail (yes I should be doing this since my goal is a 50K on trail) when the Cayuga Lake Tri is coming up so soon. I really don't swim (realized when checking past results that my swim times have gotten progressively worse each year instead of better!) and haven't made any effort to improve this year. But back to this week and Green Lakes in particular for now.
Monday I turned the planned rest day into a trail run day. After I dropped Elizabeth off at dance, I ventured down the hill through crazy traffic to Treman State Park. Right out of the gate my 1:15-1:30 window dropped to an hour because of the traffic. I quickly headed up the Gorge side of the trail and almost immediately I was transported to Oregon trails in my mind. The upper falls were closed, so I crossed the bridge to the Rim after confirming the closure!  A mile down the rim side, I took a left fork when I should have gone right. The trail rapidly turned to single track, and there were lots of downed trees, most covered with moss. I was zipping along thinking  "they need to do some trail work here" when pretty soon I came upon water. Looking up I thought "the rim doesn't go right to the water!" Plodding up the hill, I panicked about being late for Elizabeth, getting lost and thought "this is why I haven't ventured out on the Pacific Crest Trail alone yet ..." I realized I must work at being much more thoughtful and brave on trails! All in all a good, albeit VERY SLOW run.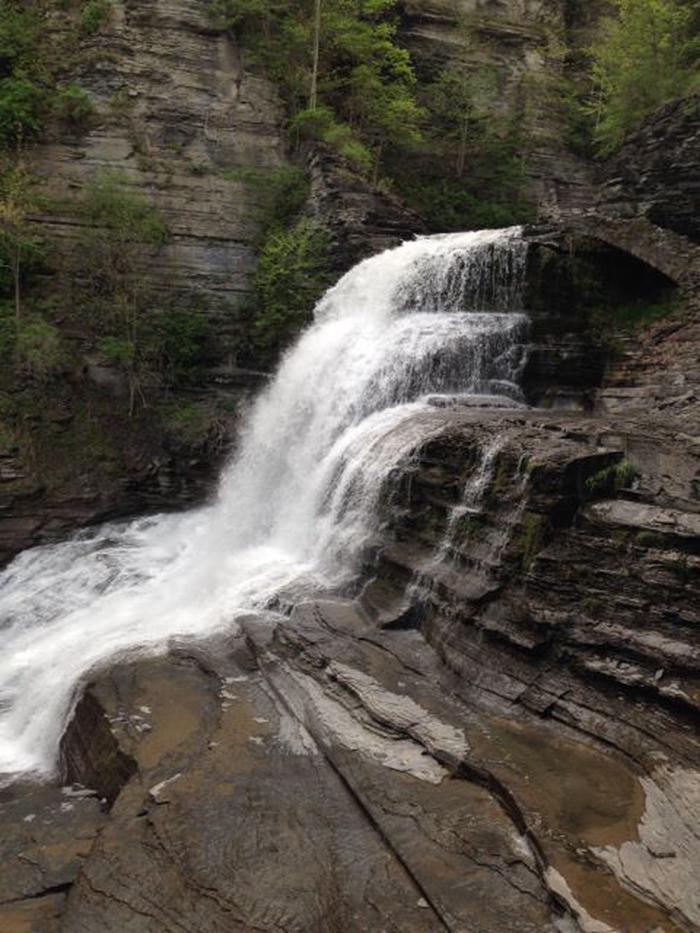 Treman State Park
Tuesday Delightful! I thought I had the bad time slot this week and was feeling like it was my turn for it anyway since Scott got the heat last week it would be my turn for rain this week. But it never really rained - just slight sprinkling which was nice. Almost the same stats as last week for time and distance for this timed run (45-60 min). The difference was that after running Buttermilk and Treman this trail felt EASY. Nice to see harder work pay off to make something that used to feel really hard feel more comfortable. I averaged a 9:30 pace for just under 6 miles.
Wednesday After Spinning, Teresa and I hit the Black Diamond Trail. I was tired from class and my left knee/IT band was tight. What was interesting was that on Tuesday evening I felt I had pushed myself hard, and then I was zipping along with Teresa much faster than when I ran alone. We ended up with an 8:54 pace for 6 miles. This was a reminder that I need to push myself harder more often! After this run I regretted letting Teresa go ahead during the Flower City Half. I think that if I could have kept her in my sight instead of letting my head decide she was too fast for me, she could have unknowingly been my pacer for that race. I'm working on challenging myself a little harder at least some of the time now!
Friday Jenny and I changed our Saturday long run to Friday because Scott needed to run 24 on Saturday. Since we were staying at Kathey's lake house while we were renting our house for Cornell,  I realized that it would not be responsible to leave the kids and Elizabeth's friend at the lake house while both of their parents were off running. I could have taken the afternoon slot, but we really didn't have time to stagger before the recital without being very pressed for time. So, Jenny and I met shortly after lunch and did 3 rounds of the Cayuga Lake Tri route with two Rim loops to make 14 miles. This was really fun. We had perfect weather (albeit a bit too humid) and we settled into a nice groove early on. I was really hungry about an hour and a half into the run, so I tried the Trail Butter that my sister had sent earlier this year. After a lot of laughter and pictures about it looking like poop coming out of the tube, I tasted it and LOVED it. It settled very well in my stomach and I was no longer hungry. Of course when I love something this much, I have to shout it from the rooftops. So, more about that in another post. Stay tuned.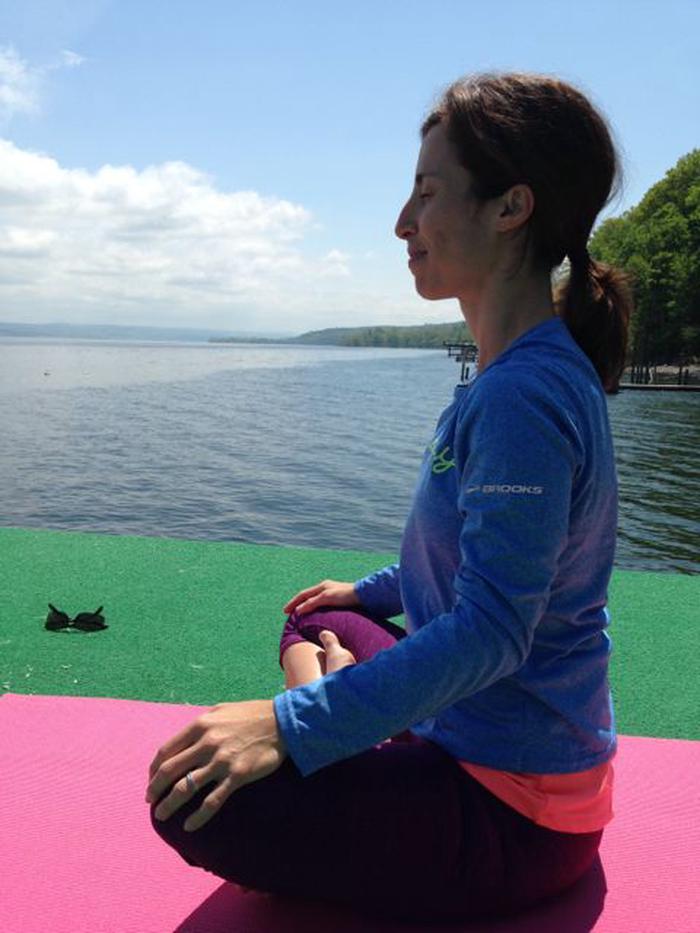 Yoga/Pilates on Kathey's dock
Saturday This was supposed to be a 1 hour medium effort run. It ended up being a day with lovely Yoga/Pilates on Kathey's dock. Honestly my knee hurt, I didn't feel like staggering with Scott and having to run right when it was getting nice outside, and I really wasn't in the mood to have to shower before the dance recital. So, my choice was to pretty much rest. Two rest days within a couple of days of each other didn't sit that well with me, but my legs sure felt better for it!
Sunday It was so nice to be able to run this medium effort hour long run with Scott. We were able to talk about a lot of things that were just general to the world and not specifically about our kids or our own day to day life, and kept up a nice 9 min mile pace for 7 miles. I also appreciated the time on the road for a change.
Week #3 is down, and I'm excited to get to 16 miles next weekend. An added bonus is that the Cayuga Trails 50  is next weekend! It is being hosted by our local running store, Finger Lakes Running and Triathlon Company and Cayuga Medical Center next weekend. This race is the 50 Mile distance championships for 2014! I'll be volunteering at an aid station with my family. I'm sure both Scott and I will come away from this event really inspired and ready to focus even harder on our own training.