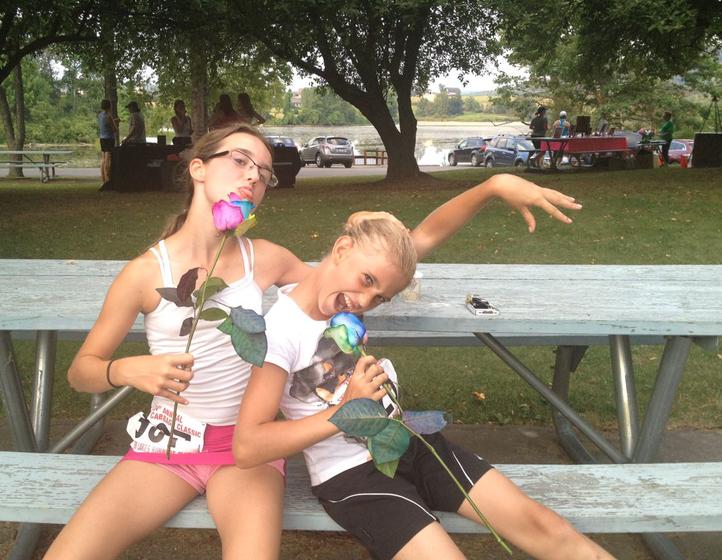 Time to Read: ~1 min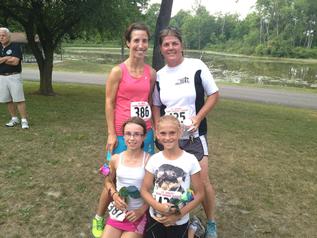 Elizabeth and Molly
This race is an annual tradition for me! It started as my first 5K with Elizabeth and my friend Jody and her daughter Abby back in 2008. At that time, even finishing a 5K was something I wasn't so confident about. I've gone back to this race every year, as it holds a fond place in my heart. It is a race that we often introduce friends to, and this year, we came with my friend Kathey and her daughter Molly. We all ran separately, looking forward to meeting up after the race.
The course is challenging. Held in a local park in Dryden, NY it starts on a horse path through the woods, turning uphill right past mile 1. The next mile feels like a never ending uphill, but the water stop lies halfway up that hill! I always look forward to seeing our local running store (Finger Lakes Running and Triathlon Company) owner, Ian Golden and his daughters manning this station. On this hot July evening, I grabbed a cup of water, gave the girls high fives and continued up the hill.
At the end of the race, they were giving out roses to people doing the Women's Distance for the first time. Kathey gave Elizabeth her rose, and the girls had fun posing with them. We enjoyed a yummy dinner together at local Thai place, Tamarind after the race.
Results: 25:30, 8th in age group, 36/129 overall