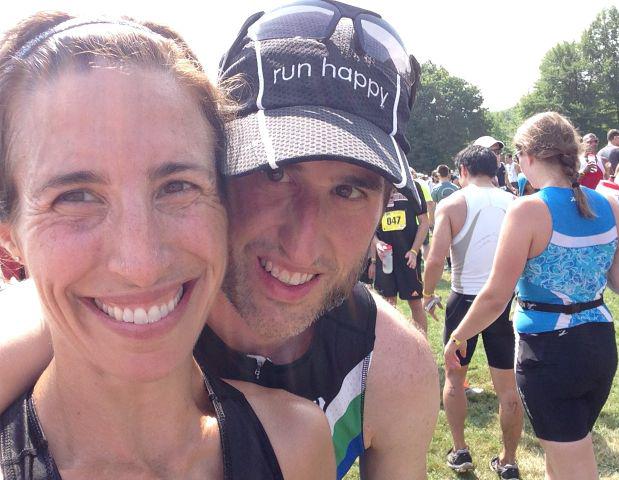 Time to Read: ~6 min
Training
It sounds a little crazy, but I didn't specifically train for this event this year. I'm training for my first 50K later in August, so I focused on adding in some riding, and doing a little bit of swimming in the couple of months before the race. I love this race, and would have liked to train more, but the 50K calls for so much running that I didn't have a lot of time left to train to swim and bike. I did attend an open water swim clinic the day before the race. At this clinic, triathlete Doug MacLean helped us practice our starts and talked about strategies to use the pack to our advantage. I learned a lot from this that I'll take into the next training round. Unfortunately, for me, attending a clinic the day before was brain overload.
Race Day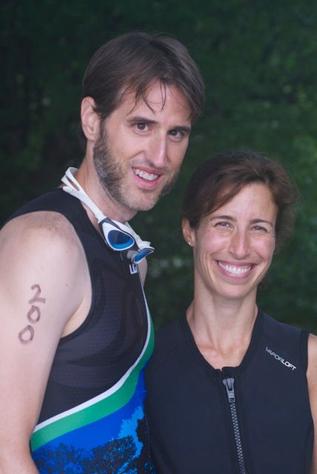 Before the Swim
Swim At our clinic, Doug had us practice the frenzied tri swim start. Working to get comfortable swimming in the chaotic start, staying with the pack and swimming hard would help us secure a nice spot in the swim pack. He suggested we really push the first yardage with all out effort, before settling into our pace. He also strongly advised a wetsuit. I borrowed my friend Lynn's wetsuit at the last minute, and decided I wouldn't heed his advice about swimming hard for fear of running out of air and energy soon into the swim and panicking. However, when the race started, I abruptly joined right in the fray. I hopped  in and followed bubbles, staying on people's feet and getting jostled around. This was going well for me until I panicked right before the 50 meter buoy. This is the 4th time I've done this tri, and the first that I very seriously considered dropping. I treaded water for a minute, flipped onto my back, thought "I'll just catch a ride home and run 20 miles instead" and then "have fun explaining to all the people who know you are doing this that you dropped out before you finished 50 meters of swimming!" So, I flipped over and proceeded to do the back stroke for the entire distance. I haven't done this stroke in 6 years, but it felt right for my frame of mind that moment. I stayed near the buoy line on the way out, getting tossed into the big buoys a couple of times. On the way back in I got a bit farther out toward the kayaks than I would have liked. I ultimately finished this swim in 25:07 which while slow, was a swim PR for me. Heading out of the water, I really didn't transition very quickly. I was feeling crummy about giving up on freestyle. I was disappointed that I considered dropping, and wasn't feeling very energetic. Taking my time in transition gave me the time I needed to flip my brain around and give permission to just have fun with the bike and run, letting the stress of the swim melt away.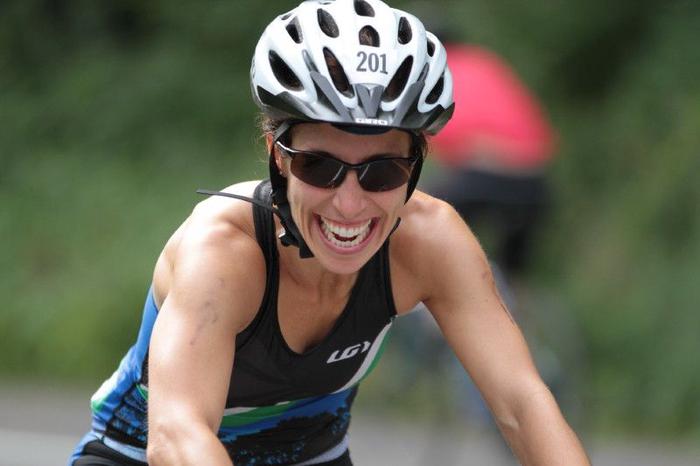 Photo by Stevan Knapp
Bike As I hopped on my bike and headed up the hill, I felt happy. This was the first year I didn't start the bike with a sick stomach. I normally panic mid-swim about the fact that I'm in a lake and my head gets away with me. I've started every bike feeling like I'm going to throw up. So, it was a very pleasant surprise to feel totally great. Smiling as I biked up the hill,  I zippily passed several people from my purple swim cap group, cheering them on as I passed by. Soon, I started getting passed by the 50+ male heat that started after me. I thought this might make me sad, but I found it really helpful. My friend Simon powered by and I picked up his cadence for a little while, then another speedy man and another chance to mimic cadence. I loved watching the great tri bikes pass me by, and I enjoyed continuing to gain on people in my swim group.
My friend and 50K training partner, Jenny was on the course somewhere, and she was really worried about both the swim and the bike. As I passed the remnants of a bike accident, I got really anxious that the accident could have been Jenny. This thought occupied my mind until a man passed me around mile 4 and promptly got a flat tire as he pulled back in. I pondered flat tires for the next mile, grateful that my tires were not flat. After mile 5, I saw Jenny heading back down the hill. We recognized each other and shouted encouragement. I was so relieved and happy for her! I relaxed instantly and continued on my bike, grateful that she was having a strong first tri. As I pulled into the turn around, I had failed to pass the woman in front of me
Transition to the run
before we had to slow down, so I worked to pass her after that turnaround. She took right off and it took me awhile. Then, there were suddenly a lot of cars on the road and gluts of cyclists. I caught up to two ladies riding next to each other just chatting. The race is so strict with the 3 bike length rule for no drafting that I was really shocked that these bikers were just casually talking and riding together. After passing them, I switched gears too quickly and lost my chain. Luckily, this has happened to me in training rides, so I just pulled off to the side, put it back on and resumed my ride. I was really bummed because I was close to passing 17 mph for this ride, and I would have done it if this hadn't happened. The rest of the ride was uneventful. When I was pulled over with my chain, all the ladies I had recently passed shouted words of encouragement, and later when I caught back up they were also encouraging. I love the camaraderie of this race. For the first time ever, I was able to cycle down hill into the park without putting on my brakes. It was great to fly down the hill! Time 50:20 (PR by about 6 minutes)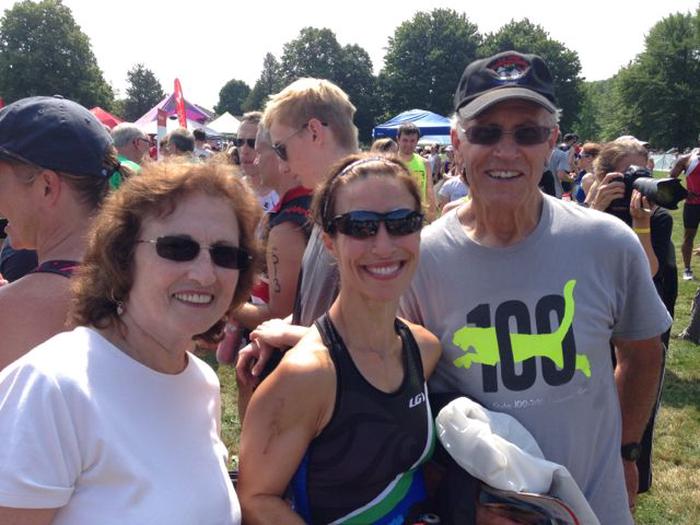 After the race with my Mom and Dad
Run Quickly changing into my new Pure Grits, I chatted with Scott briefly (he was finished) before heading out for the run. The funny thing about this was that I didn't much care to run when I started. I took off not really into it. The only part of the course that I don't like is the first 2/3 of a mile or so that is on grass as we start and end. I struggle to have a good attitude as the run begins, and today was no exception. However, once I got into the groove (thanks to great cheering efforts from spectators on the sides) it was great! I didn't have a GPS on so I just ran by feel. The only thing going against me was the memory of having gotten a cramp in the Women's Distance Festival  a month ago. I tried to run right below full out effort threshold to avoid cramping again. I saw so many people I knew on the run, and enjoyed cheering each and every person on. After the run, I decided that perhaps I could run a bit faster if I were to spend less time saying "good job" and "you've got this" and "go xxx" to everyone. But, it wouldn't be nearly as fun!! Time for this 26:04. (Also a PR by about a minute).
Overall Thoughts
Just two weeks ago, I had a terrible attempt at an Open Water Swim and decided I wasn't going to do this event again - EVER! Now, after race day, it is tough to imagine not doing it again. I do think I'm finally ready to stop thinking about not being a strong swimmer as a permanent character flaw. I think that I'm ready to attack it head on. I was 4th in my age group for the run and 5th for the bike. Of the 20 people in my age group, I was 17th for the swim. If I can improve the swim, not only will I enjoy the entire day much more, I'll like my results better. My plan for this year is to get a wetsuit, join the Ithaca Triathlon Club, sign up for a Master's Swim Group, and attend open water swim sessions in Cayuga Lake next summer. I also intend to do the Tri for the Y next spring. The first year Scott and I did the Cayuga Lake Tri we used that race as our practice. Next year it can be my test of my swimming!
I'd like to thank Finger Lakes Running and Triathlon Club and all the ambassadors! It was SO much fun to see so many ambassadors out on the course. We were represented as volunteers, Sprint participants, Intermediate and Relay! I loved seeing everyone on course, and giving and receiving encouragement. And our team Louis Garneau tri suits were AMAZING!